Call us 24/7, click (949)791-7127
Dr. Nikolaidis
gets
excellent reviews
from his patients. The following are real examples of excellent reviews he has received: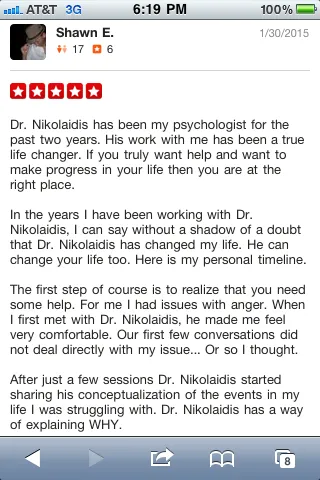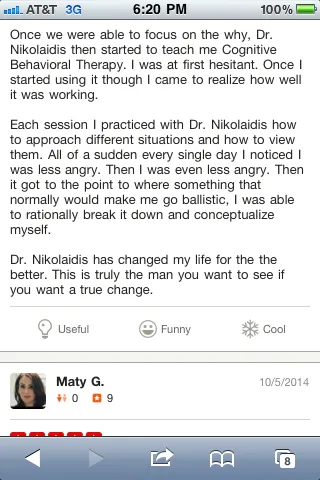 Orange County Anger Management
Start Therapy with Dr. Nikolaidis Today
Now Accepting New Patients with Openings Starting This Week
Book Appointments Instantly 24/7

Call and Text 24/7, click (949)791-7127
from your smartphone

Two Newport Beach, Fashion Island Offices
Same Day Appointments Available
Dr. Nikolaidis ranks in the Top 5% of
Psychologists in the United States & Canada
Dr. Nikolaidis has been featured in Orange County Register: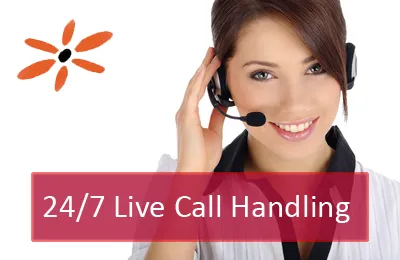 With many years of experience helping Executives, Professionals, Business Owners, Engineers, and Top-Level Managers just like you manage and reduce their anger, Orange County Psychologist Dr. Chris Nikolaidis has earned a reputation as one of the leading anger management psychologists in Orange County for individuals and couples .

Dr. Nikolaidis has completed advanced clinical training from world leaders in the field of cognitive-behavioral therapy for anxiety, depression and anger, such as Dr. Donald Meichenbaum , Dr. Aaron Beck , Dr. Judith Beck , and Dr. David Barlow .

In Cognitive Behavioral Therapy (CBT) of Anger Management , Dr. Nikolaidis helps clients with an understanding of a conceptual framework for understanding anger. Dr. Nikolaidis helps clients identify events and cues to anger. Dr. Nikolaidis assists clients with Anger Control Plans: Helping clients develop a plan for controlling anger. Dr. Nikolaidis helps clients with understanding what is the Aggression Cycle, and How to Change the Cycle. Dr. Nikolaidis usues Cogntivie-Behavioral Therapy (CBT) to help clients gain an understanding of the A-B-C-D Model of Anger Management and Thought Stopping. Dr. Nikolaidis helps clients with Assertiveness Training and the Conflict Resolution Model: Alternatives for Expressing Anger. Dr. Nikolaidis helps clients with identifying Anger and the Family: How Past Learning Can Influence Present Behavior. Contact Dr. Nikolaidis today at his Newport Beach office at (949)791-7127 for a free 15 minute phone consultation.
Purchase your appointments in advance through Bill Me Later®, a PayPal service, and there's
no payments and no interest if paid in full within 6 months.
(See terms. Subject to credit approval. Certain restrictions apply.)
High Rise Location: