Call us 24/7, click (949)791-7127
Cognitive Behavioral Therapy
Orange County Psychologist & Therapist
Anxiety Therapy

Start Therapy with Dr. Nikolaidis Today
Now Accepting New Patients with Openings Starting This Week
Book Appointments Instantly 24/7
Call and Text 24/7, click (949)791-7127 from your smartphone
Two Newport Beach, Fashion Island Offices
Same Day/Night & Weekend Appointments Available
Dr. Nikolaidis ranks in the Top 5% of
Psychologists in the United States & Canada
Dr. Nikolaidis has been featured in Orange County Register:


Beck Trained, Founder of CBT, A Top 10 Most Influential Psychologist
Looking for an Orange County Psychologist & CBT Therapist in Newport Beach? Dr. Nikolaidis is an Anxiety Therapy & CBT specialist , providing expert help using Cognitive Behavioral Therapy (CBT) for Individuals & Couples . Get Top Quality Cognitive Behavioral Therapy. Call Dr. Nikolaidis' Orange County offices 24/7 at (949)791-7127 . You can also send a text message 24/7 to (949)791-7127 . With many years of experience helping PIMCO Executives & Experts, Top Money Managers, Restaurateurs, Chefs & Managing Partners, Professionals, Business Owners , Attorneys, Engineers, Top-Level Managers, Athletes, and those in the Entertainment Industry just like you reduce their anxiety, Dr. Nikolaidis has earned a reputation as one of the leading anxiety reduction psychologists in Orange County. Having an extensive background working with the Entertainment Industry , Dr. Nikolaidis specializes in helping creative and performance artists work through creative blocks and performance anxiety.

Dr. Nikolaidis has completed advanced clinical training from world leaders in the field of cognitive-behavioral therapy for anxiety, depression and anger, such as Dr. Donald Meichenbaum , Dr. Aaron Beck , Dr. Judith Beck , and Dr. David Barlow .



Dr. Nikolaidis provides expert Cognitive Behavioral Therapy (CBT) for Anxiety and Cognitive Behavioral Therapy (CBT) for Depression to adults , teens , and couples and families. He also provides Cognitive Behavioral Therapy for Anger Management . CBT is an evidence based psychological treatment, and studies have shown it to be the most effective treatment for anxiety, depression, anger, relationship problems, and many other issues.

What is Cognitive Behavioral Therapy (CBT)?
Cognitive Behavioral Therapy (CBT) is the term used for a group of psychological treatments Dr. Nikolaidis uses that are based on scientific evidence. These treatments have been proven to be effective in treating many psychological disorders.
Some people have an inaccurate view of what psychotherapy is, perhaps because of old-fashioned treatments shown on TV or in the movies. For example, on TV, psychotherapy may seem to involve dream interpretation. That type of psychotherapy is outdated.
Cognitive and behavioral therapies can be short-term (i.e., between 10-25 sessions) when the focus is limited to resolving specific symptoms or problem areas and teaching specific skills. CBT can be longer term, over many years, if the treatment focus targets more pervasive or long-standing problems, if there are multiple diagnoses or problems, or if a problem or disorder goes into remission and then re-occurs. CBT is different from many other therapy approaches by focusing on the ways that a person's cognitions (i.e., thoughts), emotions, and behaviors are connected and affect one another. Because emotions, thoughts, and behaviors are all linked, CBT approaches allow for psychologists to intervene at different points in the cycle.
There are differences between cognitive therapies and behavioral therapies. However, both approaches have a lot in common, such as:
The psychologist and client work together with a mutual understanding that the psychologist has theoretical and technical expertise, but the client is the expert on him- or herself.
The therapist seeks to help the client discover that he/she is powerful and capable of choosing positive thoughts and behaviors.
Treatment is often short-term. Patients actively participate in treatment in and out of session. Homework assignments often are included in therapy. The skills that are taught in these therapies require practice.
Treatment is goal-oriented to resolve present-day problems. Therapy involves working step-by-step to achieve goals.
The psychologist and client develop goals for therapy together, and track progress toward goals throughout the course of treatment.
To book an appointment with Dr. Nikolaidis, call and Text 24/7, click (949)791-7127 from your smartphone.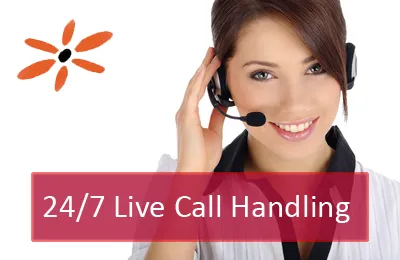 Cognitive Therapy and Behavior Therapy are introduced in more detail below.
Cognitive Therapy
The basis of cognitive therapy is that thoughts can influence feelings, and that one's emotional response to a situation comes from one's interpretation of that situation. An example is below.
Imagine experiencing the sensations of your heart racing and shortness of breath. If these physical symptoms occurred while sitting quietly on a park bench, they might be attributed to a medical condition, such as a heart attack, and may cause fearful and anxious emotions. In contrast, if these physical symptoms occurred while dancing in the front row at a concert, windsurfing across the ocean in Hawaii, running at the beach, or having amazing sex, they likely would not be attributed to a medical ailment, and would not lead to fear or anxiety, but most likely would be interpreted as excitement and having fun. In short, different interpretations of the same sensations could lead to entirely different emotions.
Cognitive therapy suggests that many of our emotions are due to our thinking - i.e., the ways that we have perceived or interpreted our environments. Sometimes these thoughts may be biased or distorted. For instance, one might interpret an ambiguous phone message as suggesting interpersonal rejection, or physical symptoms as suggesting a medical disorder. Others may set unrealistic expectations for themselves, or harbor pervasive concerns regarding their acceptance among others. These types of thoughts can contribute to distorted, biased, or illogical thinking processes that then affect feelings.
In cognitive therapy, Dr. Nikolaidis helps his patients learn to:
Distinguish between thoughts and feelings.
Become aware of the ways in which thoughts can influence feelings in ways that sometimes are not helpful.
Learn about thoughts that seem to occur automatically, without even realizing how they may affect emotions.
Evaluate critically whether these "automatic" thoughts and assumptions are accurate, or perhaps biased.
Develop the skills to notice, interrupt, and correct these biased thoughts independently.
To book an appointment with Dr. Nikolaidis, call and Text 24/7, click (949)791-7127 from your smartphone.
Ocean View from High Rise location: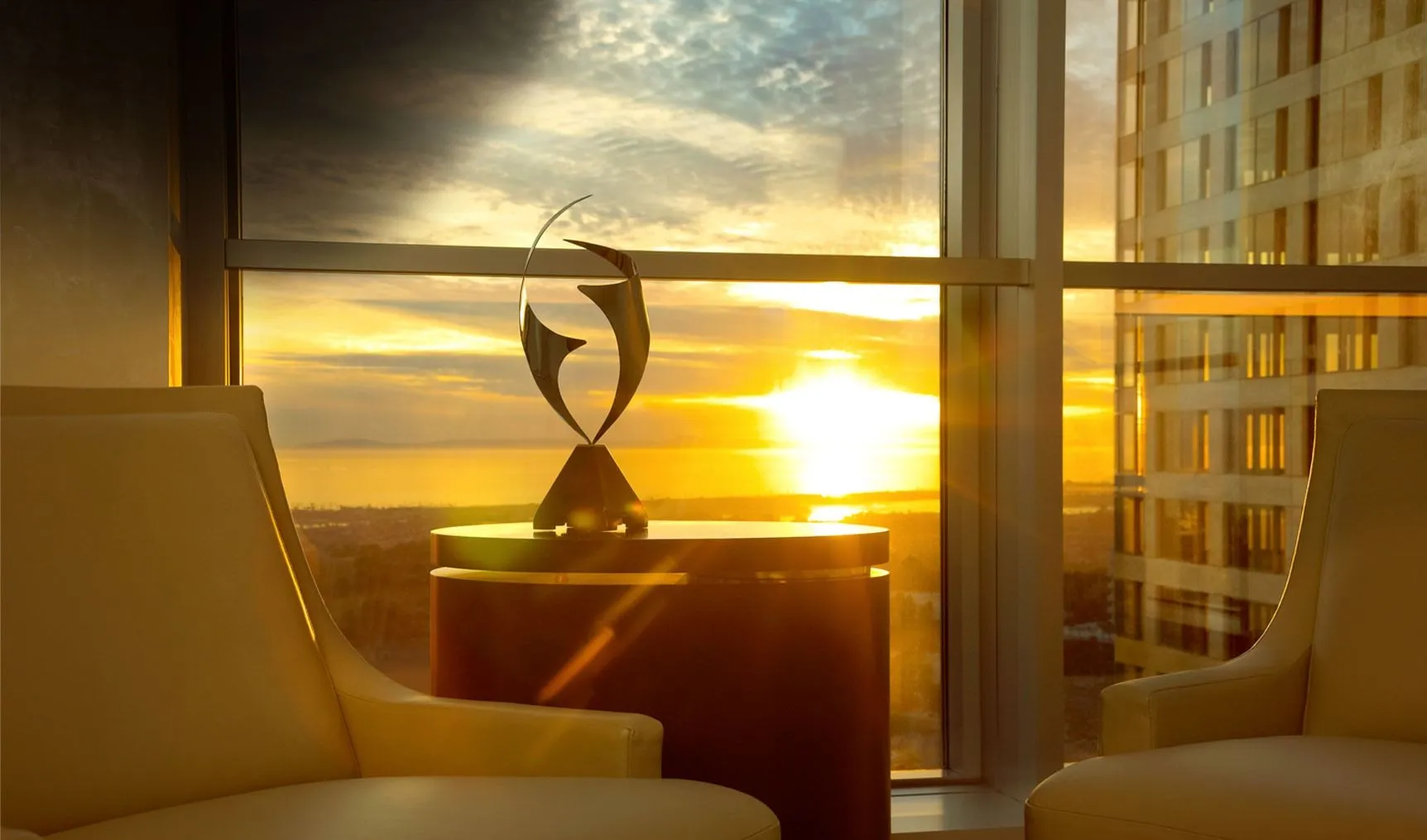 Behavior Therapy
Behavioral approaches vary; however, they focuses mostly on how some thoughts or behaviors may accidentally get "rewarded" within one's environment, contributing to an increase in the frequency of these thoughts and behaviors. Behavior therapies can be applied to a wide range of psychological symptoms to adults, adolescents , and children. A couple of examples are below.
Example #1. For instance, imagine a teenager that persistently requests permission to use the family car to go out with friends. After repeated requests to parents, and repeated denials for permission, the teenager becomes angry, irritable, and disobedient towards his/her parents. Following a tantrum, the parents decide they can not take the hassle any more and allow their child to borrow the car. By granting permission, the child actually has received a "reward" for throwing a tantrum. Behavior therapists say that by granting permission after a tantrum, the child has "learned" that disobedient behavior is an effective strategy for getting permission. Behavior therapy seeks to understand such links between behaviors, rewards, and learning, and change negative patterns. In other words, in behavior therapy, parents and children can "un-learn" unhealthy behaviors, and instead reinforce positive behaviors.
Example #2. Imagine being afraid to ride in an elevator. To avoid the fear and anxiety, you might eventually choose to avoid all elevators, and walk up flights of stairs instead. The extra time and energy that is needed to walk the stairs could cause you to be constantly late for work or events with friends. However, despite these consequences, the fear that comes with riding an elevator is too great to bear. Behavior therapists suggest that avoiding the elevator has been rewarded with the absence of anxiety and fear. Behavioral treatments would involve supervised and guided experience with riding elevators until the "rewards" associated with avoidance have been "un-learned," and the negative associations you have with elevators has been "un-learned."
Although behavioral therapies are different from disorder to disorder, a common thread is that behavioral therapists encourage patients to try new behaviors and not to allow negative "rewards" to dictate the ways in which they act.
Cognitive Behavioral Therapy (CBT) stands out as having the most empirical support for a wide-range of symptoms in adults, adolescents , and children. In Cognitive Behavioral Therapy or CBT for Anxiety , you will learn the most effective skills for assessing and treating anxiety, and develop a full arsenal of skills for quieting worried thoughts and putting yourself back in control. You'll learn a range of proven methods for overcoming anxiety, such as:
Relaxation and breathing techniques
Challenging negative self-talk and mistaken beliefs
Imagery and real-life desensitization
Making lifestyle changes
Acceptance and commitment therapy
Skills for preventing and coping with panic attacks
Dr. Nikolaidis is an Anxiety Disorder specialist . People who who are dealing with the issues decide they want to see *Dr. Nikolaidis*. Call Dr. Nikolaidis now at his Newport Beach office at (949)791-7127 to learn about What Happens in Cognitive Behavioral Therapy (CBT) or for a free phone consultation. Dr. Nikolaidis can help you learn the skills you need to manage your anxiety and start living more freely than you ever thought possible.

(949)791-7127 Dr. Nikolaidis gets excellent reviews from his patients. The following are real examples of excellent reviews he has received: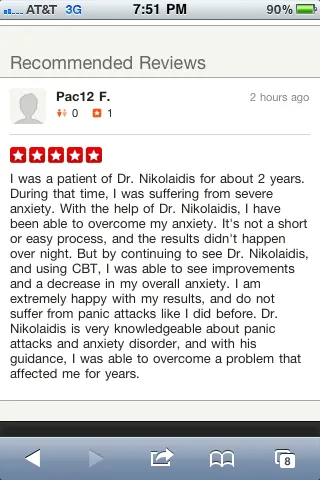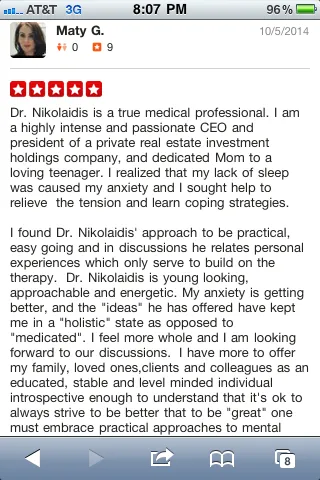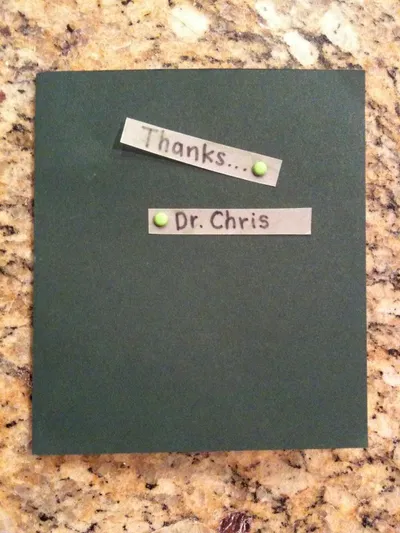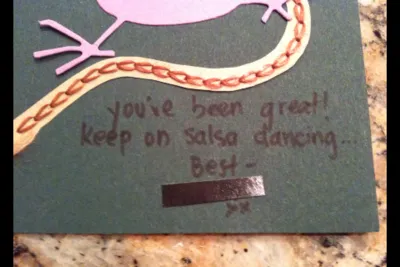 High Rise location between PIMCO and Stradling Law Firm. Conveniently located across the street from Nieman Marcus , in the same building as Lugano Diamonds .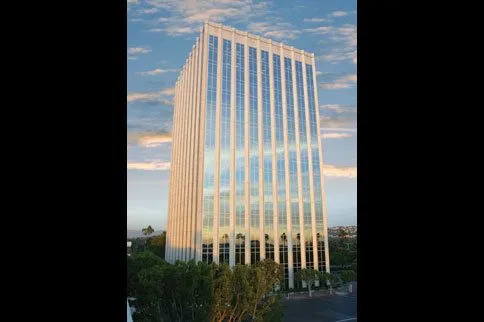 Purchase your appointments in advance through PayPal Credit, and there's no payments and no interest if paid in full within 6 months. (See terms. Subject to credit approval. Certain restrictions apply.)