Are you overwhelmed by Panic Attacks and Stress ? To contact Dr. Nikolaidis at his Newport Beach, Orange County office , call, click or text (949)791-7127. Newport Beach seems to be filled with men, women and teens who are overwhelmed with Stress and Panic Attacks . A Panic Attack is a sudden onset of intense apprehension, fearfulness, or terror, often associated with feelings of impending doom. Do you wake up in the middle of the night with your shirt soaking in sweat? This is one of the symptoms of Panic Attacks. Symptoms also include pounding heart, shaking or trembling, sensations of shortness of breath or smothering, choking, chest pain or discomfort, nausea or abdominal distress, feeling dizzy, unsteady, lightheaded, or faint, derealization (feelings of unreality) or depersonalization (being detached from oneself), fear of losing control or going crazy, fear of dying, numbness or tingling sensations, chills or hot flashes.

Panic attacks are most commonly associated with Panic Disorder , and can also be a component of Social Anxiety or Social Phobia, Obsessive Compulsive Disorder (OCD) , Generalized Anxiety Disorder (GAD) , and Fear of Success .

If you are having any of the above anxiety or stress symptoms or problems, call a doctor specializing in Cognitive Behavioral Therapy (CBT) for Anxiety .
Call or text Dr. Nikolaidis now at his Newport Beach, Orange County office at (949)791-7127 for a free phone consultation.
(949)791-7127 Dr. Nikolaidis gets excellent reviews from his patients. The following are real examples of excellent reviews he has received: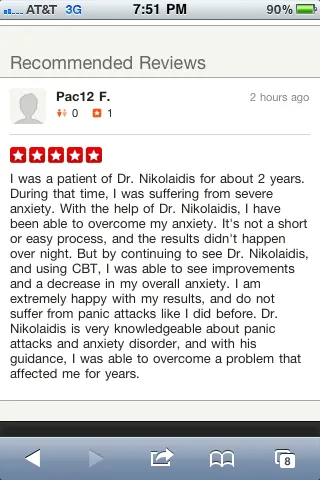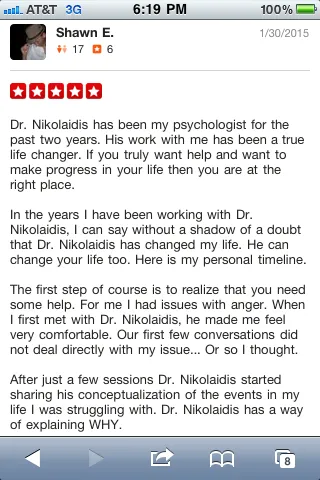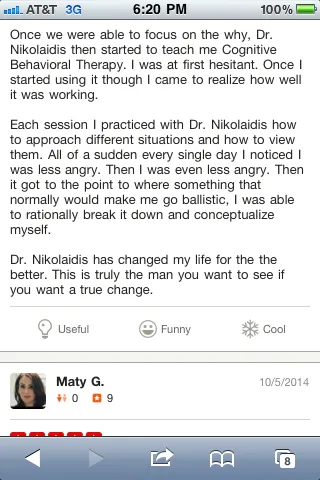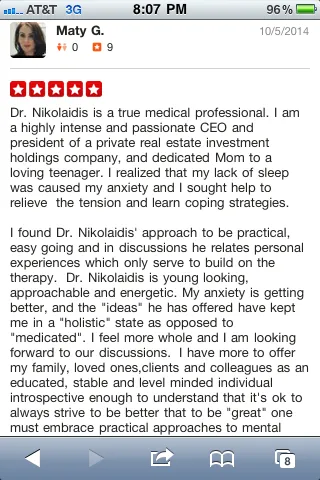 Dr. Nikolaidis serves the online community, as well as communities in Los Angeles and Orange County including: Newport Beach Newport Coast Corona Del Mar Laguna Beach Irvine Costa Mesa Tustin Yorba Linda Laguna Hills Laguna Niguel Anaheim Foothill Ranch Anaheim Hills Coto De Caza Dana Point Lake Forest Mission Viejo Fountain Valley Aliso Viejo Huntington Beach OC Beverly Hills West Los Angeles West LA West Hollywood Hollywood Hills Santa Monica and Malibu 92658 92659 92660 92661 92662 92663 92657 92651 92652 92648 90263 90264 90265 90025 90069 90209 90210 90211 90212 90213 90024

Dr. Nikolaidis provides marriage counseling, relationship therapy, family therapy, couples counseling, premarital counseling, family counseling, teen counseling, parenting guidance, divorce, relationship advice, as well as help with dating, love and communication. counseling, psychiatrist, marriage, counselor, marriage family therapy, MFT, marriage counselor, Christian counseling, counselors, marriage family counseling, marriage counselors, marriage family counselors, counseling couples, family counselor, marriage counselling, marriage therapy, relationship counseling, marriage therapist, marriage relationship, family marriage therapy, relationship counselling, marital counseling

CBT Cognitive Behavioral Therapy Anxiety Treatment Depression Treatment Psychologists of Orange County California